34th Annual Mill Cities Relay Invitational
Sunday, December 3rd, 2017
Please note the following for this year's relay:
First, On Leg 1 runners will be directed to a safer route at the intersection of Lowell, Dracut and River Roads. Runners will bear left onto Dracut Road, then take a right down Stuart Street, followed by a left onto River Road.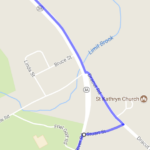 Second, there is a new category for runners averaging 11 min/mile or more.  They can run on an Open Sunshine team.  This is a no- scoring team of 3 people (any age/any gender) who will run the last three legs of the relay.  The Open Sunshine teams start at 8:45 at exchange #2 at the Vocational school in Tyngsboro.
Congratulations to the 2016 winners- Gate City Striders!
(with a record of 9 wins in a row)
"Great Traditions are Built One Brick at a Time"
Hosted by the Clubs of the Mill Cities Alliance
The Mill Cities Alliance is a member of the Road Runners Club of America